Here are a few of the highlights from our Year of Code Waterloo Region campaign from 2015-2016. Stay tuned for information about upcoming events and programs under our new HiveWR banner!
Change The Ratio Waterloo Region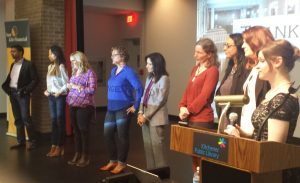 During the week of International Women's Day, we held an inspiring evening of speakers, Change The Ratio Waterloo Region, (#ChangeTheRatioWR) on the topic of gender (and other) diversity within our local tech sector. Speakers from Catalyst Canada, University of Waterloo, Google, Miovision, and more shared stats and programs aimed to change the ratio of women working in technology. From Bias Busting programs to hiring targets and more, it was an evening of insight, laughter, and inspiration. Read more.
Image: Speakers from Change the Ratio Waterloo Region March 10, 2016.
HackerGrrlz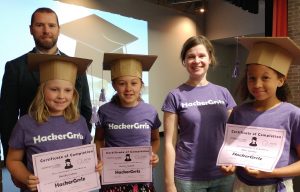 One of our most successful programs is HackerGrrlz, a program that matches women working in or in post-secondary studies in tech or science with girls in grades 4-8 at schools throughout Waterloo Region. During our spring 2016 pilot, the girls participated in a six-week pilot program that introduced them to programming concepts through coding apps, games, and experiences shared by their mentors. The program aims to inspire girls to include tech in their education studies as they move up and eventually to post-secondary institutions, and at the same time give the female mentors positive experiences that encourage them to stay in STEM careers. Our pilot programs were loved by our participants and mentors and we hope to run another HackerGrrlz program soon!
Family Hack Jam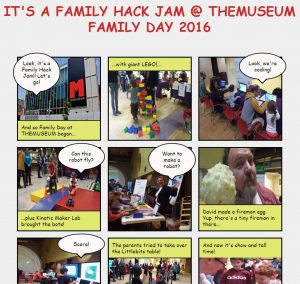 Hive Waterloo Region has been running Family Hack Jam sessions since 2012, and in recent years we've partnered with THEMUSEUM to present them for Family Day each February. For our 2016 FHJ, our exhibitors and activities included giant lego, learn to code with Hackademy, how to program robots, Tinker Truck activities, Maker club fun with Little Bits and much more. Subscribe to #HiveBuzz news to get all the info on the next Family Hack Jam, February 20, 2017!
Women, Wine, and Code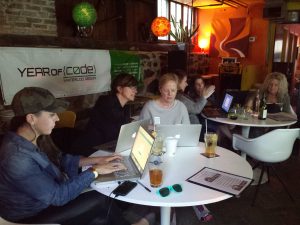 This extremely popular series debuted in the fall of 2015 as part of the Year of Code WR campaign. Women of all backgrounds attended and enjoyed both a social atmosphere and friendly instructors teaching them how to code. Hosted at the Jane Bond restaurant in Waterloo, we ran several sessions on WordPress, and creating web pages from scratch with HTML and CSS in a female-friendly environment. One of our participants even got a job based on that initial introduction to WordPress. We plan to offer this program again in our 2016-17 year; sign up for #HiveBuzz to find out when!
Refurbathon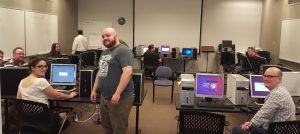 For many families in Waterloo Region, the cost of a computer is out of reach. Our Year of Code Waterloo Region ran a holiday season TechDrive for old laptops and desktop computers that could be refurbished and donated through community agencies to those families. An amazing group of volunteers then worked together to clean and reformat nearly one hundred computers which were then delivered to those in need. They did very fast work! 😉