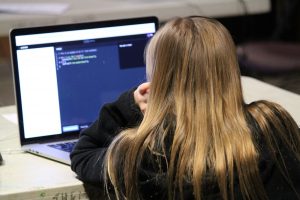 Over the last four years, Hive Waterloo Region has been evolving into what it is today, and what we envision for our future: a thriving network of individuals and organizations committed to increasing digital literacy in our community, and supporting diversity and equity in our tech sector. We've been able to get this far thanks to the support of hundreds of people, not only here but around the world. I'm so grateful for what we've been able to achieve thus far, and our team is looking forward to building on those successes.
Why is our work so important? I'd like to share with you some comments from Hani, a student in Cambridge Ontario, about why it matters to her:
"[It] teaches girls about coding so maybe, they can become programmers when they get older. They teach you things like how to make a website and if you're making a website, how to insert links and how to insert images. It gives girls like me, an amazing head start for coding! That gives us better chances to get into a good university/college for their future lives. All that because of this amazing program." – Hani*, 9, Cambridge Ontario
Hani was in grade four when she and her friend learned to code with Python – a real-world programming language – as part of HackerGrrlz, a program our team ran last year under the Year of Code Waterloo Region campaign. If you're unfamiliar with coding, this is a remarkable achievement for someone so young.
Hani, and many others like her, are the reason Hive Waterloo Region exists:
Kayla*, seven and attending a French immersion school in Waterloo, has attended public learn-to-code sessions at the library and is just starting to learn

Scratch

and

Scratch Jr.

One of her favourite apps is

Lightbot

, a learn-to-code app made by a

local startup

.
Jocelyn is eleven and a student in gifted classes in Kitchener. She's been building incredible programs and animations using

Scratch

for several years and with our help has starting teaching her peers. We want to support her and other girls in her future schooling and career, should she decide to pursue technology.
Tariq is fifteen and lives in Cambridge. His father worries about the best way to get him engaged in learning how to code, because he knows coding provides a window to new opportunities. He's looking for advice and resources to help his son.
Sharon, 68, is retired and lives in Waterloo. She'd like to learn how to use tools like smart phones, Skype, and Google Docs but she finds the technology intimidating.
Digital Literacy Skills Needed For Our Future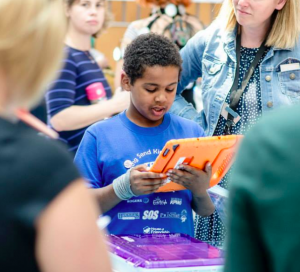 Technology is – and will continue to be – so present in our lives. Those who understand how it works and can use it will be the creators of our future. That's a pretty big claim, but evidence shows it's true, and it's not going away any time soon.
I often use the following to illustrate the impact technology is having on our lives, and why being digitally literate is becoming as important as reading and math literacy:
Very simply – those who have the tools to access learning and knowledge hold power.
Throughout history, the way our societies retain and share knowledge has evolved, from oral tradition to the Lascaux Cave drawings, from hieroglyphics to the printing press, from radio and television to today's technologies – including Wikipedia, Twitter, Facebook, and big data.

Consider the invention of the printing press: its invention caused the skill of reading to move from the elite to the many. This breakthrough led to massive cultural shifts as more people were able to learn and think critically about information affecting them. Those who hold the responsibility of learning, sharing, and passing on information to the next generation, in any age, also have the ability to change narratives that define our world and design tools with which we build our lives.
Today's digital technologies are having the same effect on how the world works, and by giving everyone the opportunity to learn about and understand our new digital tools, we can empower each one of us in our own lives.
Think Globally, Act Locally
Waterloo Region is a growing and exciting area in which to live. Those of us with the ability to do so have the moral responsibility to lift others up. If we are sitting at the table, if we have a voice, let's invite others to that table and amplify their voices. Rather than aiming to be the next Silicon Valley: let's build on our region's unique strengths of community support, barnraising energy, and innovation to build something here that can be the blueprint for other communities to aspire to.
Our work speaks to this directly. The Hive Waterloo Region network – of both individuals and organizations – will:
Support our youth and our future, by providing digital literacy learning that's accessible to everyone

Support our community with resources to navigate the sometimes confusing new digital world

Create a cross-sectoral network of organizations and individuals working together towards a common goal: schools, businesses, social agencies, arts workers, teachers, children, parents, retirees, and more

Support our diverse and changing population, giving access to learning to those who are often underserved in the scientific and technical fields: women and girls, newcomers, those in lower income demographics, or those with disabilities.  

Create real innovation by advocating for more diversity and equity in our tech sector

Promote our Region as a tech centre for excellence, both in Canada and globally
Join Us!
This is your personal invitation to join us, as an individual or an organization – or both! We've just launched our membership application cycle for 2017, and the network we build will be stronger with your support. For more information, please visit our Membership page.
We're looking forward to working with you.
*Names have been changed.